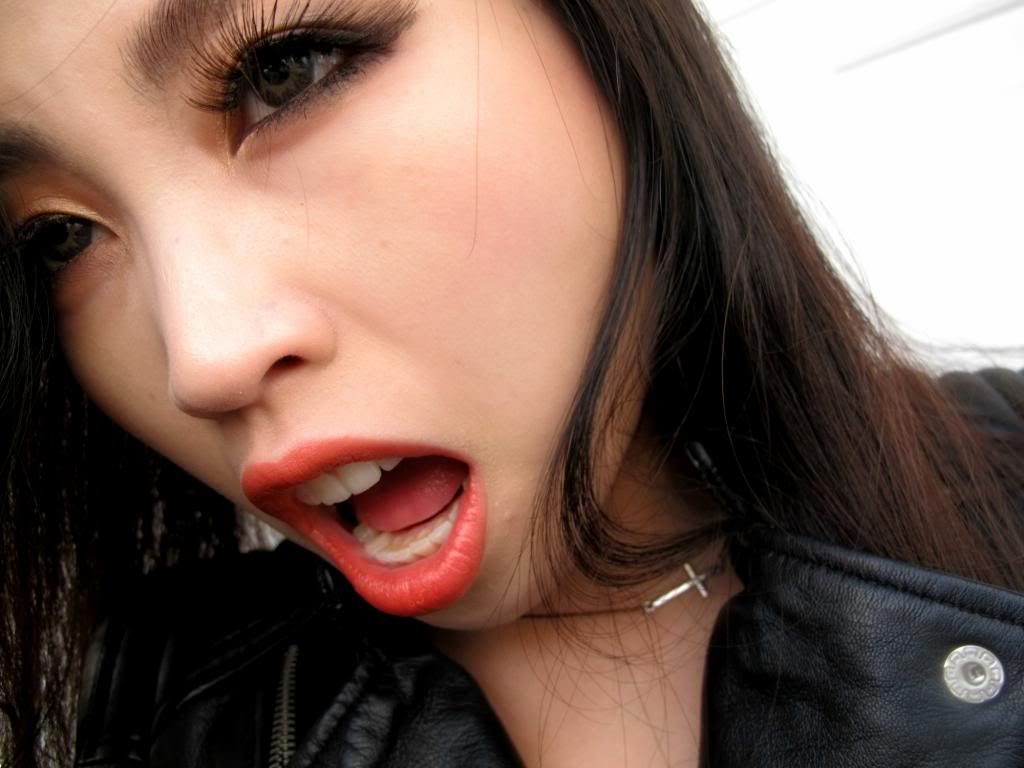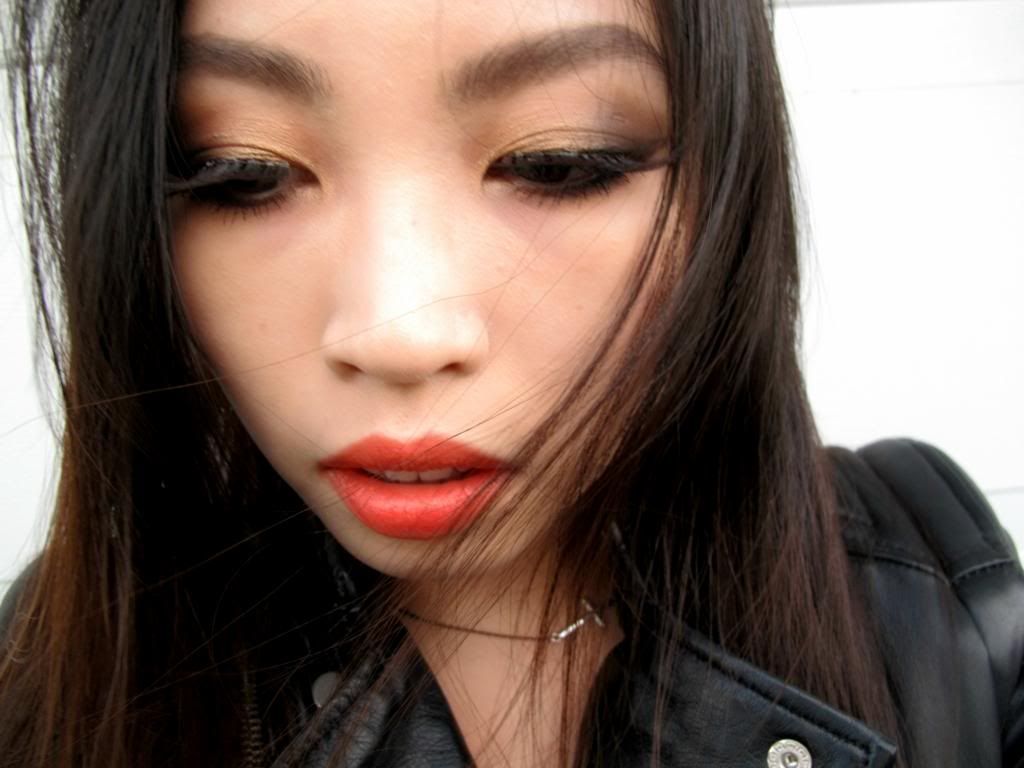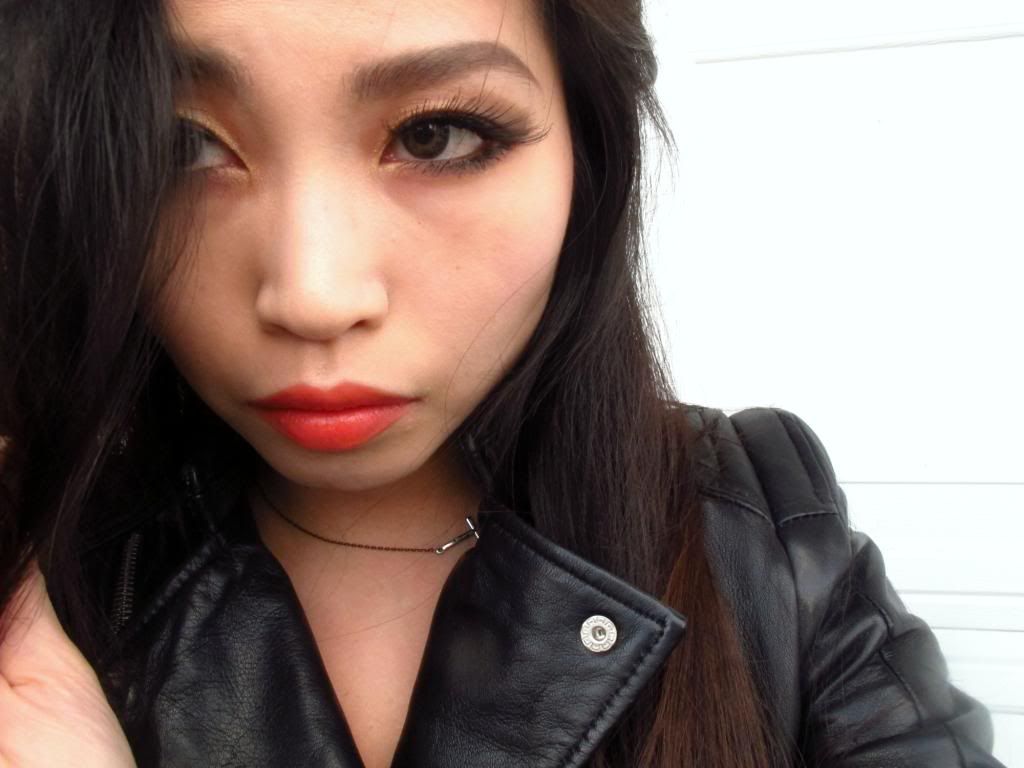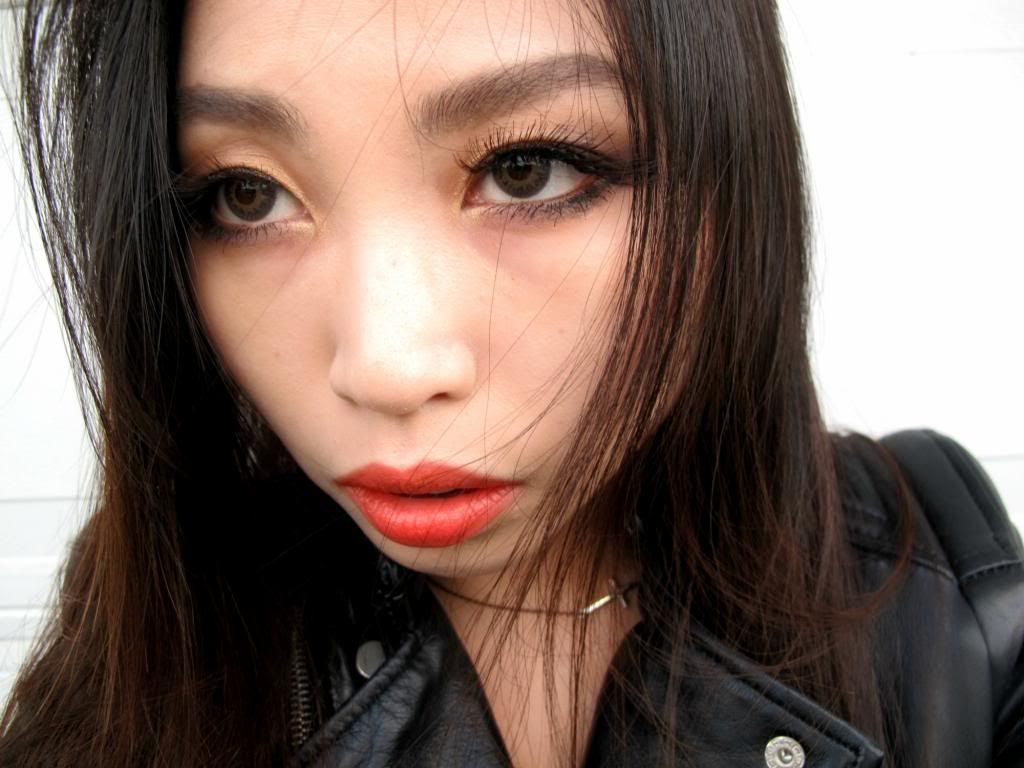 Products used: Skin79 Super+ BB cream; Nars Illuminator in Copacabana; Giorgio Armani Luminous Silk Foundation in 4.5; Hourglass Illume Bronzer Duo in Bronze Light; Make Up Forever HD High Definition Microfinish Powder; Urban Decay Eyeshadow Primer Potion; Maybelline Color Tattoo Pure Pigments in Barely Brazen and Breaking Bronze; Maybelline Color Tattoo 24hr eyeshadow in Bold Gold; Anastasia Brow Wiz in Medium Ash; Revlon Brow Fantasy in Dark Brown (gel only); Maybelline Big Eyes mascara; Covergirl LineBlast 24 Hour Eyeliner in Enduring Brown; Revlon Just Bitten Balm Stain in Rendezvous and Colorburst Lip Butter in Tutti Frutti (layered)
Note: The Covergirl eyeliner is horrible. The Maybelline pigments however, do go nuts on. Don't kill me for the exhaustive product list; it's only to give an idea of which products to use as you read on.
Bright sunlight has the most tactless way of emphasizing bold makeup (Dry skin? Oily skin? Too much powder? Hastily blended eyeshadow? All of that "subtle shimmer" that turns your face into an arts-and-crafts disaster? It's got you, bro.) Being a regular cakeface, I always run into the conundrum of doing my usual full face of makeup and also look somewhat natural in strong daylight. For those of us who are totally fine with just BB cream, mascara and lip balm, that's great. Feel free to skip this and go back to leisurely floating about in your airy no-makeup bubble. For people like myself (unhealthily addicted to makeup), there are a few ways to balance a done-up face in warm weather and not look completely ridiculous -- or conversely, to look fabulously ridiculous and not have it all disappointingly migrate down your face like a statue eroding in acid rain.
1. Eyes: use a good eyeshadow primer (you should be doing this already). I like to let it sink in for 10-15 minutes before I apply any eyeshadow. Stick to eyeshadow colors with warm undertones, because any dominant cool or gloomy colors look out of place (bright colors are fine!) For a smoky eye, it helps to concentrate the color around the lash line and crease.
2. Skin: The most important thing to get right. I like to mix a drop of luminizer with my BB cream, and then apply a small amount of medium coverage liquid foundation on top. This gives the right amount of "glow/dewy" etc. without having it look too undone. Apply finishing powder around the sides of your face and on the eye area, but avoid the areas where light naturally hits your face. If I'm looking for more "dew" then I apply a very light cream luminizer down the center of my nose, under my eyebrow arch and on the cupid's bow. Use bronzer as needed -- I'm sure that's quite obvious. Stay away from products with too much glitter/sparkle for minimal ridiculousness. And for the love of God, save the contouring for nighttime.
3. Waterproof products:
This is one area where it pays off to spend a bit more money if you are absolutely set on having your makeup last through any possible floods, tsunamis and other similar-in-nature but presumably less dramatic events. With waterproof formulas, you get what you pay for. Anything from
Make Up Forever
's Aqua line will not fail you in emergency water situations (getting tossed/pushed/pulled randomly into any nearby pool/ocean has become something of a regular occurrence for me).
Hourglass
makes a great
waterproof bronzer
(a unique idea, to be sure. But I'll take it).
4. Eyebrows: (PSA of the day) there are so many unfortunate eyebrow situations where they're too heavily done (or end up as meager substitutes for the eyebrows themselves, but that's an entirely different subject). Although thick eyebrows are in, they should look naturally full rather than resemble an oddly villainous upside-down Nike check. An eyebrow pencil should be sharp, lightly dispense product (kind of like a H-grade pencil, for the artists out there) and an ashy brown works best for dark hair. Use short, light strokes in the direction of hair growth, with more emphasis on the arch and fade the color out when you get to the beginning of the eyebrow (the part closest to the nose). It looks scary when people don't fade it out (and loads of people don't). Finish it off with a tinted eyebrow gel, with more emphasis on the part near beginning (ideally you will want to be able to see the individual hairs at that part).

Cream vs. Powder:
Cream products are great for eyes, but stick to powder for face products (e.g. bronzers, blush) because cream products typically wipe off more easily than powder (am I the only one who finds most of my Nars Multiple chilling on my phone/palm within 2 hours of application?) Otherwise, there's not much difference between the two; it ultimately comes down to product performance and what you like.
Try:
- Dark brown eyeliner (and lashes, if you can find them. Most of MAC's false eyelashes are dark brown)
- Oil-blotting sheets instead of powder
- Setting your makeup, then setting it again (and again).
If I'm doing heavy makeup (hello, long club nights and music festivals), then I like to set my foundation, then my eyeshadow, then all over (setting the makeup several times at different stages). Coupled with good face and eye primers, my makeup will not budge; I barely have to do touch ups. I actually spend just as much time priming, prepping and setting my makeup as I do applying it, if I really want it to stay the hell on. And it will stay the hell on. Preparation is everything!
MAC's Fix+
and
Urban Decay's De-Slick
are my favorites.
- Lipstains and stain balms instead of lipstick. (Stains are my new thing. No lipstick teeth! Lipstick-unfriendly foods!) Having said this, a bright, matte lip looks good too.
- Using your fingers to apply foundation and eyeshadow. Ditch the fancy brushwork. The foundation will blend better with your skin, and eyeshadow shouldn't look too perfect nor sharp for summer, which can happen if you use makeup brushes. It is also super convenient. And kind of fun.
- Not giving a flying fuck. In order to get away with being ridiculous, one must first acknowledge the boundaries of good taste, then proceed to break them with cocksure impunity.
This shit works. I've been happily gallivanting around in full cosmetic regalia year in, year out, dancing the night away at music festivals with no incident, 32-degree weather be damned. Sadly, my "fine, I'll come in the water but ruin my face and you die" speech isn't seen so much as a threat than a challenge for my brotherhood of inebriated hooligans (one which of course, they gleefully accept). I have been unceremoniously dunked into bodies of water in varying sizes/locations and emerged, face fully intact, albeit sporting sopping wet hair and an intense desire for revenge that consumes every fiber of my weak and runtish being. Cake away, dear friends. Barring any lame Marie-Antoinette references, summer cake can definitely be a thing.